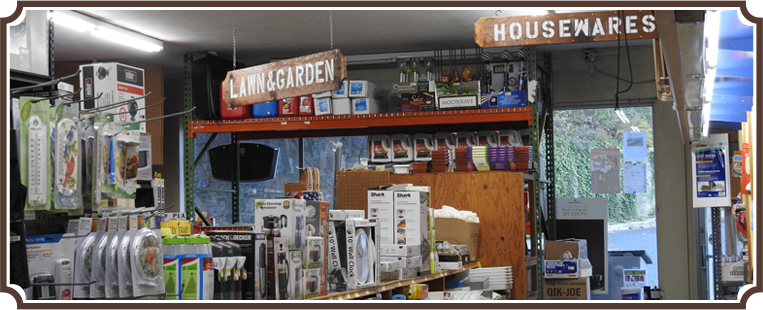 We have thousands of quality products to choose from. Your home, property, project, and contracting needs will be fulfilled here by our broad selection and our deeply knowledgeable staff. You will find the following departments and more:
Electrical parts (including switch plate covers, electrical boxes, elec tape, plugs, outlets, GFI outlets, extension cords, and more)
Plumbing parts (including kitchen faucets, bathroom faucets, nipples, copper fittings, toilet parts, sink traps, extension pipes for sink drains, air valves, snakes for unclogging drains, and more)
Benjamin Moore Paints and painting supplies
Lawn and garden supplies

Pet supplies (cat food, dog food, cat litter, leashes and toys, bowls)
Weber Grills and grill accessories

Power Tools (including drills, saws, sanders, and more)
Hand Tools
Hardware (including fasteners, nails, screws, and more)
Batteries
Cleaning Supplies

Housewares (including air conditioning, fans, and space heaters)
Lighting (including light bulbs, ceiling fixtures, desk lamps, spot lamps, outdoor lamp fixtures, solar walkway lighting, and more)
Lamp Repair

Screen Repair

Ladders (extension ladders and steps ladders)
Snow Supplies (including salt, shovels, and brushes)
Emergency Storm Supplies (including candles, flashlights, generators, oil lamps)
If there is something you need that you don't see, ask us – very likely we can order it for you.